Assessment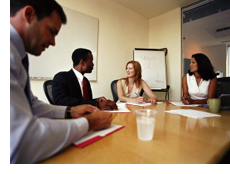 At Applied Research, our experience shows that well-qualified candidates are always in demand. The issue for employers is two-fold (1) having enough qualified candidates and (2) selecting the candidate who best fits both the culture and the specific business situation.

The cost of selecting the wrong person for the job is potentially devastating to an organization. For example, conservative estimates put the cost of replacing a manager at three to four times that person's annual salary. Multiply those across several instances and you have a huge expense that is totally avoidable! Organizations need to deploy rigorous assessment techniques to minimize costly human resource missteps. Applied Research Corporation, a pioneer in assessment technology, has significant depth in identifying and developing the right leadership talent. We help our clients reduce selection mistakes by:

Differentiating among qualified candidates to find the ones which best fit the needs of your business, building bench strength by accelerating the readiness of internal mangers to take on increasingly complex and demanding leadership roles.
What is assessment and how does it work?
Multi-step process that assesses strengths and weaknesses of leaders at all levels and in all business functions
Uses state-of-the-art technology and realistic business simulations to mirror the actual business environment that the individual will face
The process is tailored specifically to the unique needs of each individual client
We offer two distinct kinds of assessment: individual assessment and assessment centers.

Individual Assessment:
Often used in conjunction with Applied Research Corporation's transition leadership services to accelerate the success of leaders in new assignments
Consists of a combination of structured interviews and online assessments to evaluate critical thinking, leadership and problem-solving style. Includes business simulations and customized 360 feedback programs as may be appropriate
Immediate feedback can be provided within 24 hours
Highlights the individuals' fit with the organization and job specific fit through an in-depth analysis of how they solve business problems, make decisions, develop and sustain relationships and inspire and lead others
Results are provided in a detailed report with specific recommendations to accelerate readiness to assume additional responsibilities, helping transition into the new role as well as to shore up any potential vulnerabilities.

Assessment and Development Centers:
Designed to identify and accelerate the development of high potential individuals.
Customized in half day, one day and two day formats
Consists of a business simulation designed to reflect the environment in which the individual will be expected to lead as well as interviews and peer feedback. Role-plays and group problem-solving exercises are also included.
Individual's management team is involved in the discussion of potential development initiatives and focus on ways to capitalize on strengths and development needs
Immediate in-depth performance and developmental feedback is provided by highly trained and experienced Applied Research Corporation assessors in one-on-one meetings with each participant
A detailed written report is sent to each individual and his or her management team following their participation in the assessment center

Why is Assessment Important?

Assessment helps hiring managers minimize the chances of making costly hiring mistakes. It enables companies to design programs that support an individual's growth potential and the results from assessment playing a critical role in an organization's succession planning process. Overall, with effective assessment, we create the foundation for an effective organizational performance management system.

Some of the direct benefits of working with Applied Research Corporation for assessments are:

We tailor programs to mirror your business challenges and assess for factors critical to success in your company
We're experts in assessment and building competency models on which the assessments are based
Our depth of experience means we identify the critical factors that determine achievement at higher levels
Our online assessment instruments can be accessed from your location, eliminating the need for travel
We involve the management team directly in the planning of developmental opportunities
Feedback is delivered with candor, objectivity, and immediacy with the aim to preserve the individual's self-esteem
Our strict quality control process ensures consistency, accuracy and fairness

We deliver results through accurate assessments!